You must have seen the viral video of a stick figure doodle floating on water but do you know the cool science behind this trick? Wanna learn to make your Drawing float ?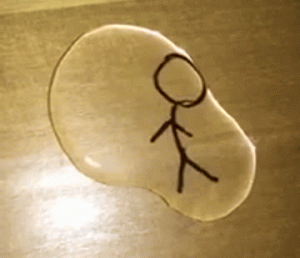 Create a "Floating Drawing" with kids. This easy fun STEAM activity for kids takes only a few minutes. Every kid wishes that their drawing came alive and could move around. This fun STEAMactivity is perfect for kids and it includes both science and art. It is fun to do as it sounds!
Let's turn curiosity into a fun STEAMexperiment.
Time to explore some chemistry with a simple magic marker trick
Supply you'll need to make your Floating Drawing, easy STEAM activity:
        A shallow utensil like a bowl or a plate which has a smooth surface

        Dry-erase markers/ whiteboard pen

        Room-temperature water
 
What you'll learn from Floating Drawing DIY science fun STEAM activities for kids?
Kids will learn about the chemistry of dry-erase markers.
Step by Step Instructions- How to make Floating Drawing on water with a magic marker
STEP 1- 
Make your drawing on a plate using a whiteboard marker.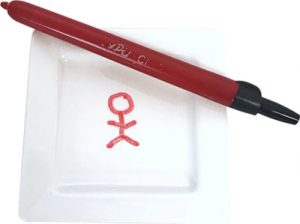 Does it look like marker ink is stick to the surface of the place?
STEP 2-
Let it dry for a minute and then try to erase your drawing with a dry finger.
Did drawing come off?
STEP 3- 
If yes, repeat the above steps otherwise continue with further steps. After the drawing has dry, pour
some water slowly onto the edge of the drawing and carefully move the plate around.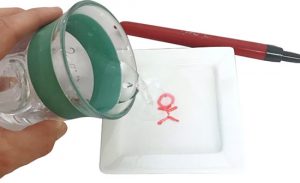 What is happening in this drawing float activity?
Does your drawing come off the plate and start to float on the water? Does it look like your drawing just came alive?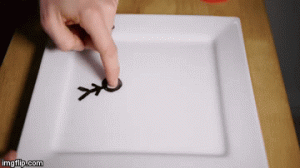 If yes, parents must be hearing sounds like "whoooo" and "woowww" coming out of their kids' mouth.
Does your kid find this DIY science STEAM activity amazing?
Create Amazing and fun animations with this STEAM activity by blowing at your drawing with a straw or move drawing around by fingers.  
OBSERVATION OF MAKE YOUR DRAWING FLOAT STEAM EXPERIMENT
Why does the dry-erase marker float in water?
Dry erase marker is made of oily silicone polymer substance which prevents the ink from sticking securely on the shine or the smooth surface of the plate. It is also insoluble which means it can't dissolve in liquids and is less dense compared to water's density. So when the water is poured, water molecules slip under the surface of the dry erase marker drawing and not-so-magically lift up the drawing onto the water surface slowly.
Explore More! – Extra observations for kids to find out with this STEAM trick
Observe new results with different dry-erase mark colors. Which color drawing floats the best?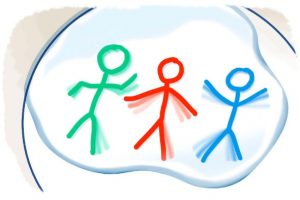 Does this trick work with permanent markers?  Why and why not?
What happens if you try to pick up the floating drawing from the water with your fingers?
Solid shape, stick figures, or words which float the best?
Do different water temperatures give the same result? Also, try the STEAM experiment with hot and cold water.
CLEANING TIP!
Remove the stains of the dry-erase markers by wiping the plate with a paper towel soaked in rubbing alcohol.
Additional fun STEAM Activities for kids to try at home
The science experiment is aimed to promote STEAM learning so that children can develop key skills such as creativity, problem-solving, critical thinking and communication at early ages.