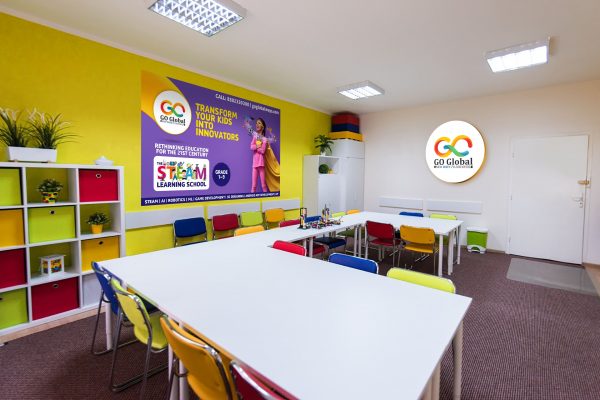 With an education system that prioritizes rote learning, meaningful learning has become rare. A survey revealed that nearly 70% of the principals believe that today's curriculum does not provide enough scope for students to inculcate skills like logical reasoning or critical thinking skills. Many schools, parents, and educational institutes are trying to solve this problem by incorporating STEM classes in their curriculum or introducing STEM classes after or during school hours. 
GoGlobalWays is a key player in helping Schools launch coding, robotics, AI, Python, IoT, and STEAM classes on their premise. With the help of our resources and team of skilled professionals and educators, we've successfully started AI, robotics, and coding classes hosted in the learning in various renowened Schools 
We provide the best coding, AI, and robotics classes in Schools with the help of our inclusive STEAM curriculum that encompasses different technologies and caters to all ages. The AI and robotics learning programs in schools that have adequate space and resources to foster an interactive educational environment. 
Our education program enables you to do end-to-end NEP implementation that follows Bloom's Taxonomy and PBL approach incorporating the 3 C's– Creativity, Capacity, and Curiosity. Bloom's taxonomy is an approach for boosting cognitive learning by focusing on six categories: creating, evaluating, analyzing, applying, understanding, and remembering the concepts you've learned in class. Achieving this in the AI, robotics, and coding learning Labs in Schools is made possible through the hands-on activities conducted in our classrooms. 
The holistic Annual STEAM Ladder© Proprietary curriculum covers all the latest cutting-edge technologies and suits all ages. For now, we've 3000+ students already enrolled in these AI and coding classes in , and we're planning to collaborate with even more schools and other institutes to expand the AI & Robotics Revolution. The goal is to provide affordable STEAM learning resources and create an ecosystem where every child can learn the skills they need to excel in the tech-ruled future.
We promote ingenuity and creativity through our interactive AI, coding, and robotics classes. We discourage convergent thinking and enable our students to learn through peer-to-peer interactions under expert guidance while engaging in hands-on activities. AI has brought a lot of changes to our pre-existing education system. We're embracing the developments and trying to move towards a future where learning is more inclusive and interactive. Achieving such a huge goal will take some time, but in our opinion, the future of education is bright and driven by AI itself.