App development is the process of creating a software application for mobile devices, such as smartphones, tablets, and wearables. The development process involves creating, testing, and refining the software until it is ready for release. App development can be done on a variety of platforms, such as the Apple iOS, Android, Windows Mobile, and BlackBerry OS. The process of app development requires knowledge of programming languages, databases, web services, user interface design, and other related technologies. The development process is often broken down into stages, including design, development, testing, and deployment.
What is App Development for Kids?
App development is a great way for kids to learn coding and problem-solving, which can be beneficial in their future. It can help them develop skills in programming and computer science, which can open up job opportunities and give them a better understanding of how technology works. Additionally, basic app development for kids can help to become creative entrepreneurs by giving them the ability to create and launch their products. This can open up a world of opportunities for them to make money, build their businesses, and gain invaluable experience.
Benefits of App Development for Kids
Improved Engagement: It can help keep them engaged and entertained, thereby improving their attention span. 

Enhanced Learning: Kids can learn new skills and concepts through apps designed to teach them. Educational apps can also help enhance kids' problem-solving and logical thinking skills. 

Improved Cognitive Development: Apps can help encourage kids to think analytically, improving their cognitive development. 

Improved Social Skills: Engaging with an app can help kids develop their social skills, such as communication, teamwork, and collaboration. 

Increased Creativity:

app development for kids

can help encourage creativity and improve their imagination. 

Improved Self-confidence: Apps can help kids gain more self-confidence and become more independent. 

Increased Safety: Kids can use apps to stay safe, for instance, if they need to access an emergency number or an emergency contact.
What is the right age for kids to learn to code?
5 to 7 years old
As per reports from the Massachusetts Institute of Technology (MIT), the most appropriate and suitable age for kids to start learning to code is 5 to 7 years old.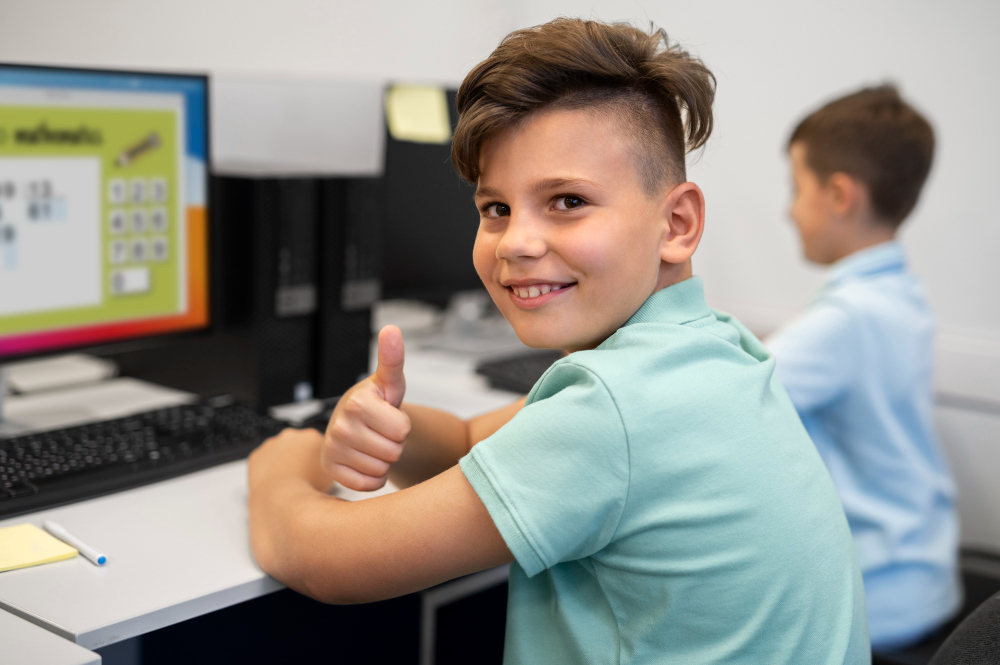 What comes first in app development?
The first step in app development is typically the idea and concept phase. Once the picture is finalized, the next step is to create a plan or roadmap for the development process. This plan should include the timeline, budget, and feature set. After the plan is finalized, the development process can begin. This includes designing the user interface, coding the app, and testing.
Using app development techniques, kids enhance their learning abilities in the:
Problem-Solving: Good app developers can identify problems, analyze them, and develop solutions.

Programming: App development requires knowledge of various programming languages, frameworks, and tools.

Design: App developers must understand user experience and design principles to create attractive and user-friendly apps.

Collaboration: App development is a team effort and requires good communication and collaboration skills.

Testing: It is essential to thoroughly test an app before releasing it to the public.

Marketing: App developers must also understand basic marketing principles to promote their apps.

App development can help kids develop their understanding of technology, which may become increasingly important as they grow older.
Can a beginner make an app?
It all depends on the type of application and its complexity. As a beginner, you can use an app maker to get to market quickly without learning a programming language, hiring app developers, or working with app designers. But if you're coding an app from scratch on your own, it will take a bit longer.
How to learn app development:
Take an Online Course: With the rise of online learning platforms, there are now many courses available for aspiring app developers to learn the basics of app development.

Get Familiar with the Platforms: Before you dive into coding, it's important to understand the different platforms available for app development. iOS, Android, and Windows are the three main platforms for building apps.

Learn to code: Once you've chosen a platform, you'll need to learn how to code. Depending on your chosen platform, you'll need to learn the language associated with it. For example, iOS apps are typically developed using Objective-C or Swift, while Android apps are built with Java.


 

Download the SDKs: Once you've chosen your platform and learned how to code, you'll need to download the Software Development Kit (SDK) for your chosen platform. The SDK is what will allow you to build and test your apps.

Create Your App: Once you've got your SDK and coding skills in place, you're ready to begin creating your app. Start
The Bottom Line
We at "GoGlobalWays" only recruit the best because we are aware that parents only want the best for their children. Our instructors are knowledgeable about our curriculum, and they can teach and work well with children. The student-to-teacher ratio will be kept as low as possible. Throughout the academic period, we offer instruction and assistance to our instructors.
Your child will learn to design and develop applications and games for portable devices with the creative and innovative mobile app development course we've created with GoGlobalways. As it doesn't require any past coding experience, this mobile app was methodically constructed for K–12 students using innovative techniques. 
We help young students succeed in this new environment by providing them with an education that develops their future abilities and increases their awareness so they may design their own lives. Coding for kids is the best way to develop skills like logical reasoning, problem-solving, creative thinking, and many more. They also get to work with different coding languages and use drag-and-drop app builders to create their digital projects. Some of the greatest educators in the field have selected the coding classes for kids that we provide. These classes are always live, as we offer personalized and live online coding classes for kids.
Flexibility, simplicity, and convenience are provided for hand-selected, curated courses created for kids. Coding for kids has never been this simple, whether it be through live interactive sessions, software, programs, or other schedule modifications you wish to arrange. All of it may be done by students at home. They may have a flexible and effective study schedule while saving time and effort on the trip. 
On our user-friendly, adaptable website created to efficiently teach kids coding, we hold our online coding lessons for kids. We promise a lot of features to give students the feeling that they are participating in a traditional yet exciting and splitting coding session.